Back before South Ridge Abstract and Title Co. was incorporated on February 17th, 1958, the Company took on it's life when J. Berch Haviland and DeBlois Milledge started to build one of the first computerized Title Plants anywhere in the United States of America. A complete Title Plant had to be built with the help of an experimental IBM computer at the University of Miami.
We are proud of our past and have kept up with a changing Title industry with being one of the first Title companies in Florida to offer computerized Real Estate Closings. This ability to change with new technology has given our customers the service they should be expecting from our company.
We offer Real Estate Closings with Title Insurance underwritten by Chicago Title Insurance Co., Commonwealth Land Title Insurance Co., Old Republic Title Insurance Co. and Stewart Title Insurance Co. These Title Companies represent the four major Title Companies in the Nation.
Helen Peck ran the Company from 1958 until the 1980's when John Haviland took over ownership and still runs the business to this day with Donna Howerton as Plant and Office manager. The fact that the company is not owned by a bank, realtor, attorney or title insurance company lets you know we have no other interest than yours and that may be one reason why we have so many repeat customers.
Every business day since 1958, South Ridge has been open for your title needs providing the service that a 50 year old Company can give.
Our customers know that our company will be here for their title needs in the future, just as in the past.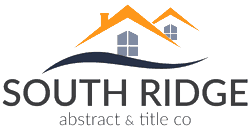 South Ridge Abstract is proud to have been voted number one in Highlands Today's Peoples Choice Award. Thank you to all of our customers past, present and future that have made this possible.